Back in June i went on a holiday to Japan with my girlfriend for her birthday and got to go to a few sneaky car destinations along the way. I planned a 2 night stay in Nagoya with two main objectives in mind. First was Suzuka Circuit, which not only did i miss a weekend of club meets, (I got to Nagoya on a Tuesday) but the circuit shutdown for repairs and maintenance that day for the next month.
That left the zed Mecca of Rocky Auto, a 45min train ride away in Okazaki. Getting around Japan really is as tricky as people say, for example i found the train i had planned to catch was a freight line. Addresses are pretty much impossible to read without knowing Japanese, so it was a case of showing the taxi driver the website and just hoping it wasn't far away from the train station as cab fairs blow out quick.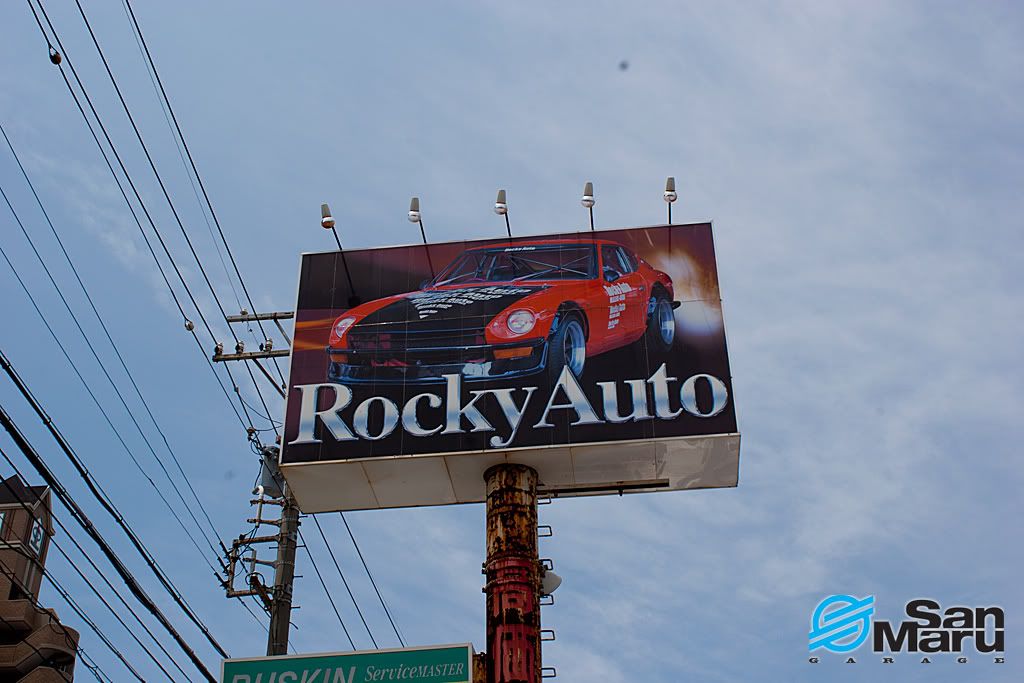 This sign was a welcome sight on the horizon.
This mint Hakosuka was sitting in the car park opposite the workshop.
This is one of the first i have seen in navy blue and i think it really suites the car especially with the colour coded flairs.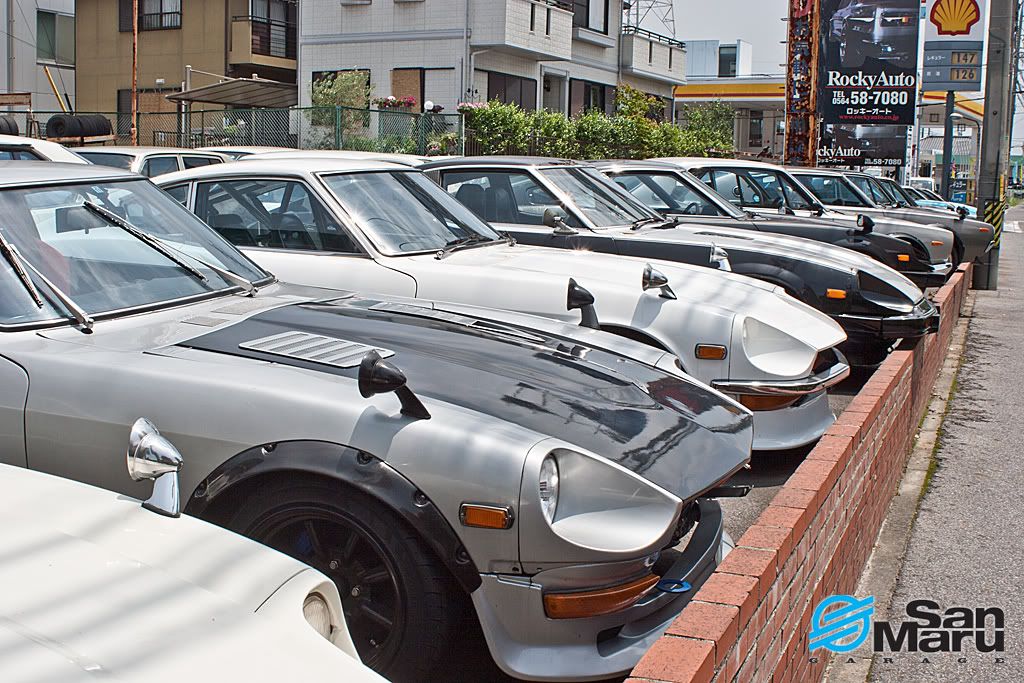 Welcome to zed heaven! I'm not sure if they are all for sale but this car yard was packed in so tight it would be easier to use a crane to get any of the cars out.
The yard wasn't all S30s. There were heaps of 2 seater S130s and various models of skylines.
Two rock-star zeds, the Carbon RB30 N/A and G-nose RB25det neo demo cars.
Pretty amazing to see this car in the flesh.
You can glean the important details. When i first saw the price, i miss counted the zeros and thought that it was $15,000. I was thinking of ringing up for a loan on the spot. After closer inspection I saw the real price tag $150,000!!! I wonder if it will ever sell?
Another recent demo car, this one is packing a supercharged L28.
Count the number of pistons on those calipers
Carbon bits everywhere!
KGC10s always look tough. I would love to have one in the garage next to the zed!
This one isn't your every day KGC10 though.
Check the sticker on the bottom of the windscreen! RB26DETT conversion pow pow!
One more for good measure.
This thing was mint! I made sure to take heaps of photos of this car for reference to panel gaps, tyre sizes and mirror positions.
That's where they are supposed to go...
I wish my zed lined up like this one.
You don't see big rims on old school cars in Japan. This car was rocking 15" Watanabes (like a lot of the cars at Rocky) running undersized tyres showing how much the car has been lowered.
205 series tyre on a 14x9" rim
Perspective.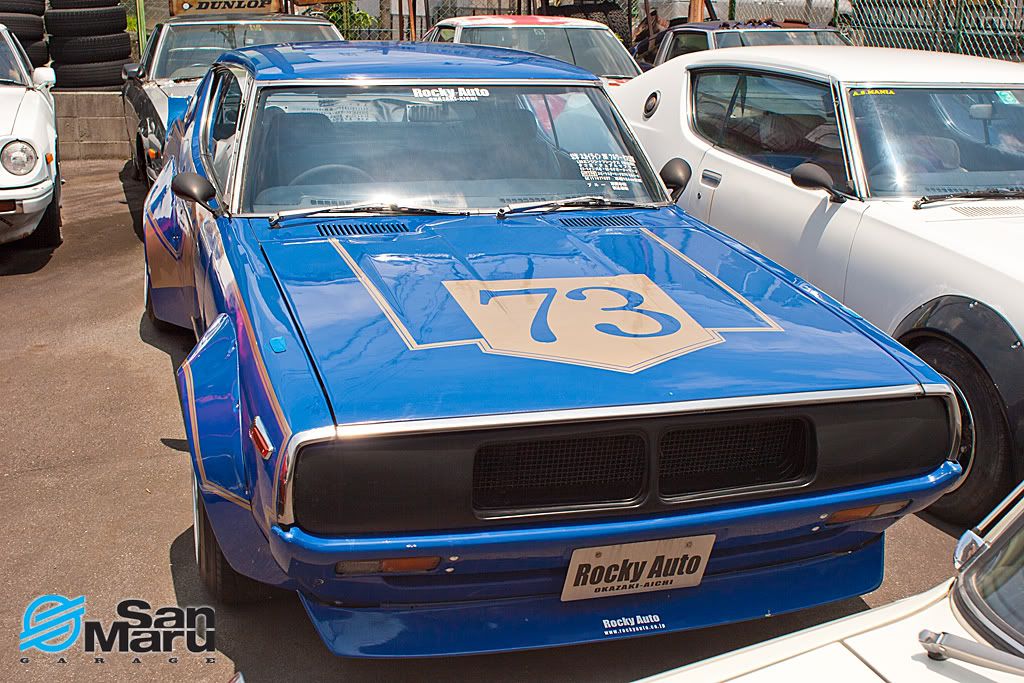 One of two old Skyline race cars sitting out in the yard.
Even with flairs, this KPGC110 looks mild after the crazy bosso'd up version.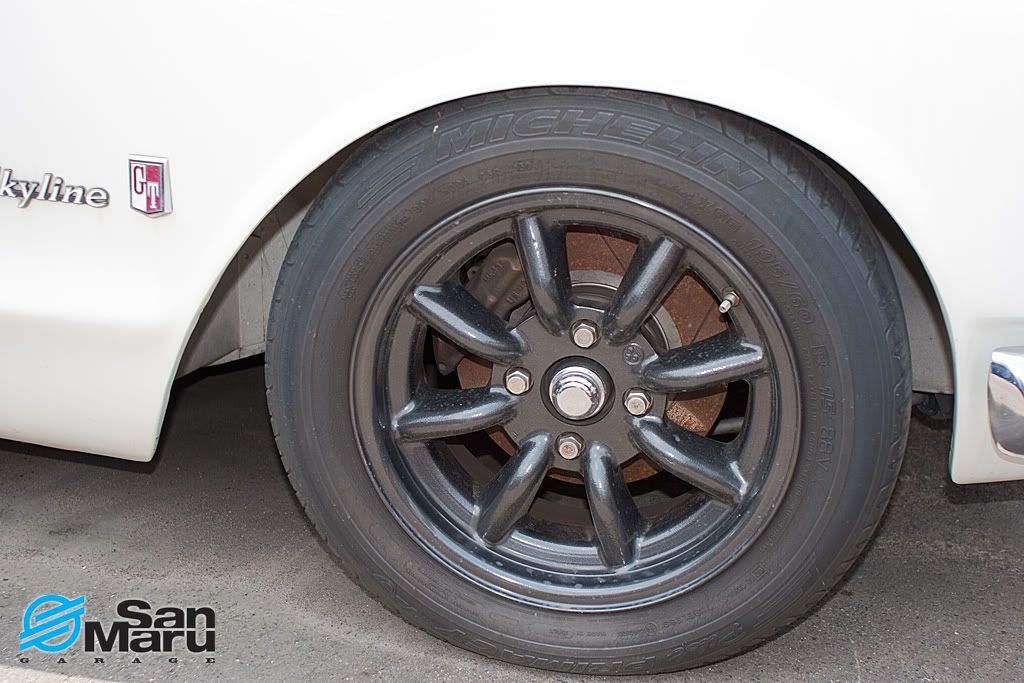 This one's for the race guys, MK63 calipers with slotted rotors.
One lucky owner was getting an RB26 conversion, including a complete R32 GTR climate control set up installed in their KGC110.
Lots going on in the engine bay compared to the original L-series.
Another gratuitous yard shot.
The other skyline race car was wedged in so tight you could hardly even get a photo of it
Fully stripped interior and massive flairs, this car was all business.
S130 demo car, i didn't even see a 2+2 there.
I can't believe we didn't get 2 seater 280ZXs over here, they can really look great!
A different take on a 260Z vented bonnet.
Skyline calipers and vented rotors are a common sight at Rocky Auto.
This thing would still be super low even when you pumped up the flat tyres. Looks like it used to be something special back in it's day.
There are heaps of cars sitting in the yard, patiently waiting to be turned into the next crazy demo car.
Some where in pretty rough shape, but i'm sure they would sell for a heap over there.
US style, even left hand drive. Probably pretty slow though
Inside the show room I got to see my first S20!
Weird thing was it ran triple Webers instead of the factory Mikunis.
And staying with the weber theme, here is an RB25 with a custom Weber manifold. Pretty cool!
Unfortunately no one there spoke English and asking technical questions in basic Japanese is pretty tough. I manage to ask the owner (who had been on the phone non stop) if they sold a caliper adapter for the skyline calipers. They didn't, so i walked back to the train station, a little disappointed at not being able to talk to anyone but still stoked to have walked amongst some of the most famous S30s in the world.
I went to a few other car places while i was there and I'll put them up too when I have had time to correct up the photos and write a few captions.
If you would like any of the shots for a wallpaper pm me and I can email you something higher res.