So I'm getting rid of all the Zed stuff I've collected during the last few years of Zed ownership. I understand some of this stuff is quite common and may probably find its way into a bin. If you're interested in something just ask and I'll come up with a price for it rather than attempt to price everything here. All of this stuff has just been sitting in boxes, so its covered in dust etc.
Ok, here we have two new threaded sleeves from Otomoto with collars etc but no matching springs. Some stut tops, front castor arms, a diff bracket, one zed hub cab. Also some front coil over converted struts that I chopped the bottom off for ChevZ, with blue springs.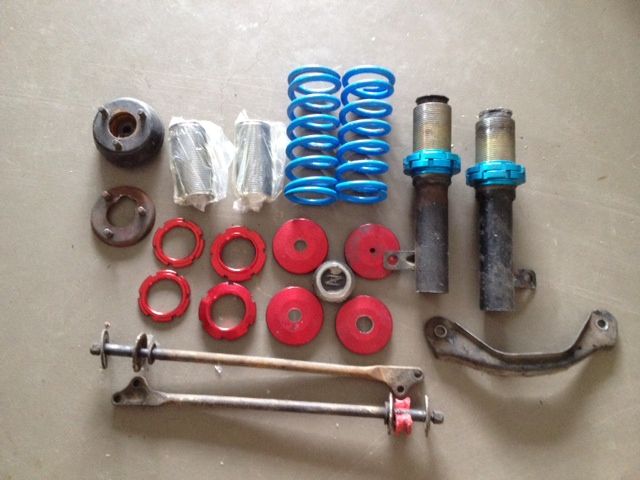 Here is some diamond print vinyl that I robbed from a 260 2+2 I think. Two rear strut top covers, two rear wheel wells, and the bit behind the seats. Could do with a clean obviously. One small rip in one of the wheel well ones.
Remains from a carpet kit I bought new. Looks like the two bits that run along on the outside of the front seats, two bits that go behind the front seats and the long bit across the back of the trans tunnel. Also some door linkage parts in pic.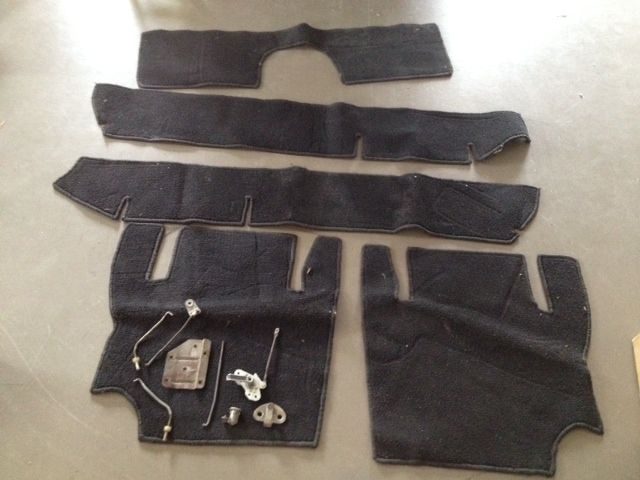 Here is three sun visors, two perspex headlight covers SOLD, an electric aerial SOLD, a center console surround and vent, three headlamps and four surrounds.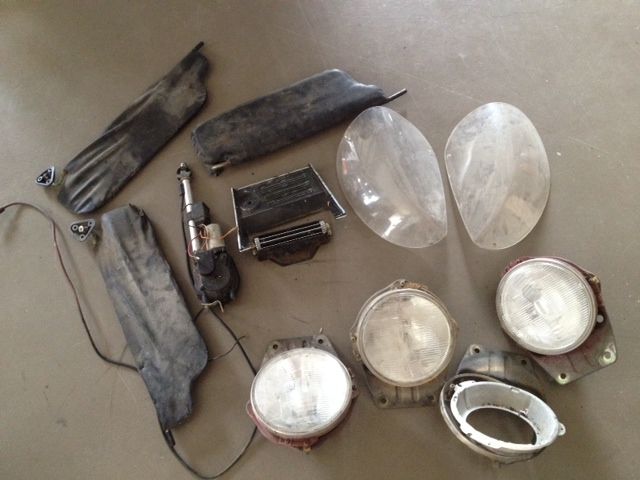 Door linkage partsSOLD, mostly from a 2+2 but I'm sure theres some 260 2 seater parts in there. Windscreen wipersSOLD, hub caps, handbrake and leather coverSOLD, door, bonnet and hatch linkage mechanismsSOLD.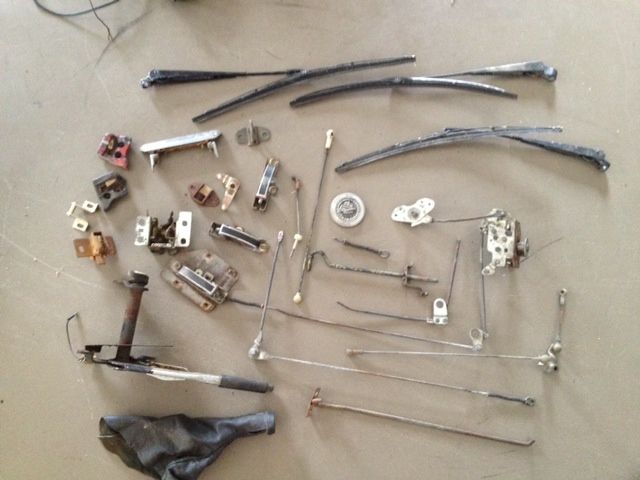 A 260 steering column with ignition barrel and key. Genuine original 240Z speedo and (tachoSOLD) with speedo cable, interior light and plastic bit that runs along the brake light and a choke knob linkage.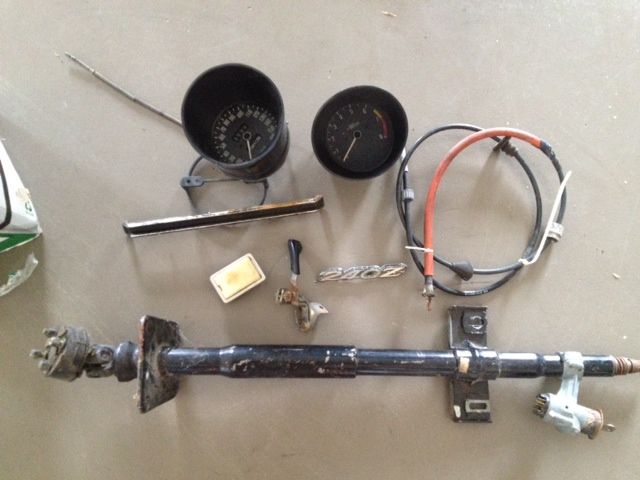 Thermo fan with bracket, L series coilSOLD, two hub caps, ash/coin tray and some L28 engine parts.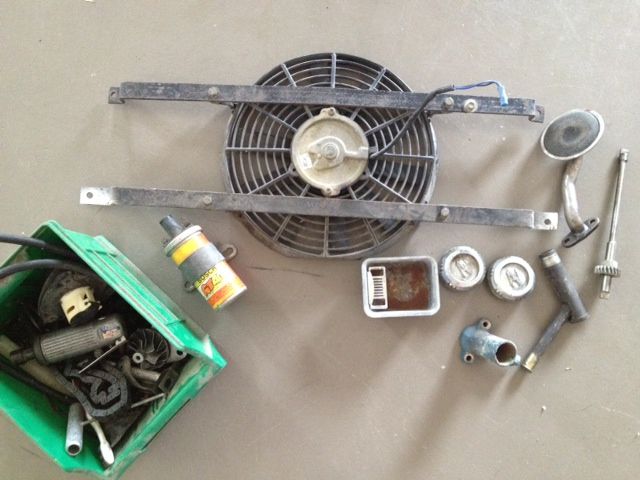 260 2+2 rear internal tail light cover, arm rests, two 2+2 stainless trims that run along the roof channel, three top of door/ base of window trims, and lots of front and rear windscreen stainless trims that slide inside the rubber seal.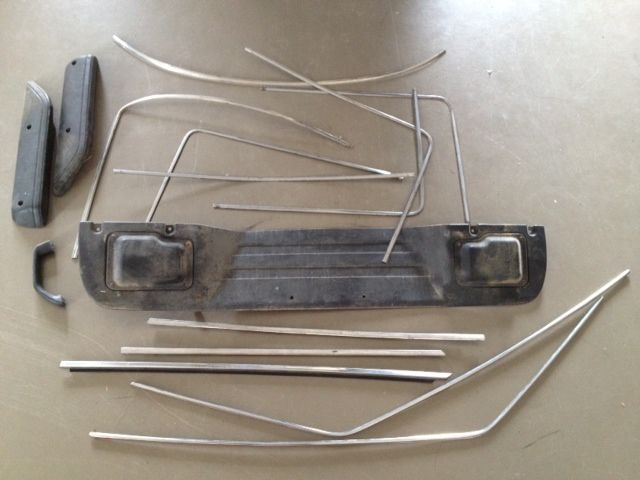 Brand new Autometer fuel level gauge
Two new orange front indicator lensesSOLD, two bonnet inspection hatches with air flow ventsSOLD, a vacuum dizzy from a 2.4L, oil filter, and what is left over from a Black Dragon weather seal kit. Part numbers are below with links to black dragon ID with picture.
59-872(2), 59-877 , 59-876(2),
http://www.blackdrag...ll.aspx?Page=12
59-851(2)
http://www.blackdrag...ll.aspx?Page=13
240Z fuel tank. Good condition.
Rear control arms.
Front and rear sway bars.
Two zed jelly beans mags and tyres
LS1 parts. ARP head bolts, fuel rails and speedflow fittings and hoses, PAC racing springs, $200 each or all for $500.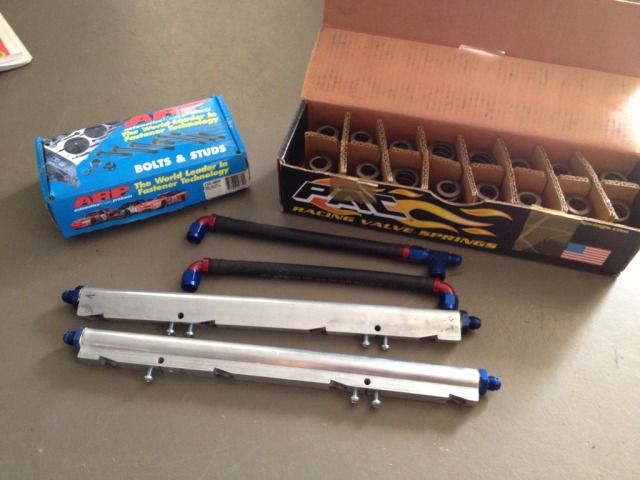 Let me know.
Cheers