Here is some long winded waffle about some of the Zed's i've had over the years. I had three other 240Zs but since they were never registered in my name I wont bore you with the details.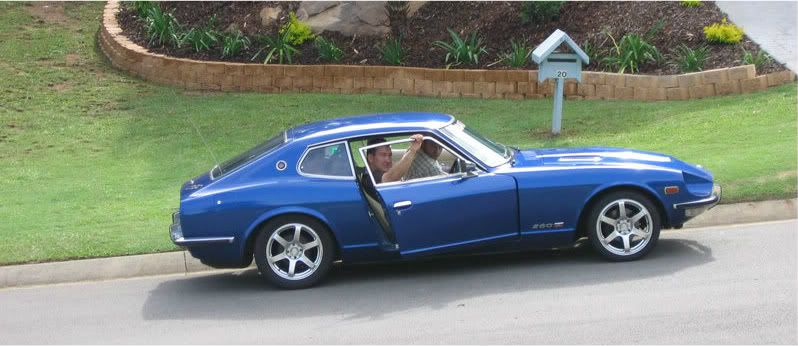 I've had a few zeds before. This one was my first car, a '78 260Z 2+2 which i repainted and retrimed on a shoe string budget. It had 240Z carbs, 280ZX distrib, NISMO headers on 2.25" exhaust. Wheels were off a Toyota Echo and were +30 offset so i had to bolt them to 30mm spacer to make them fit.
Yes i know the rear over-riders are on upsidedown.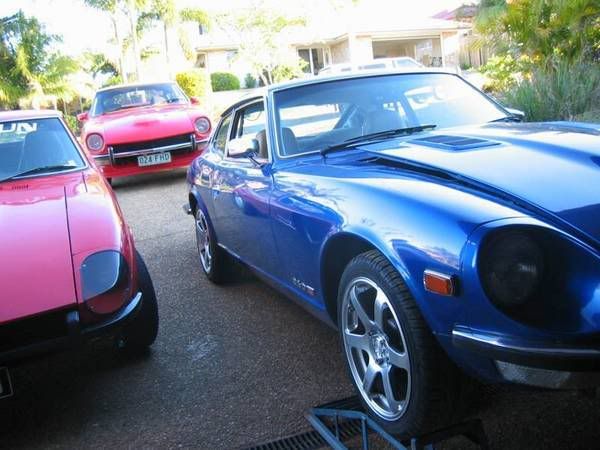 Garage space was a bit hard to come by as I lived with my mates, who were also Zed enthusiasts. I worked on the Gold Coast and lived in Brisbane and was putting 4000km a month on the poor old girl. This evenntually wore out the engine out (i bent the crank, smashed all the piston rings and the valves were tired) and all the time spent outside meant the elements had gotten the better of the bog and cheap paint.
Ended up finally getting a decent paying job so of course i went straight out and got a loan! The car run about 14psi on a cold night and performed well, but every suspension bush needed replacing as it was down right scarey in the twisties and under brakes. Everything started to go wrong when i hydro-locked the motor back in the 2005 Gold Coast floods. A conrod punched a hole in the side of the block and it was game over for that engine.
Not wanting to drop the money on a second hand engine I came across another 300ZX for sale which appeared to have everything done. $30k of receipts, 280RWKW, forged pistons, HKS GT2530 turbos, Microtech LT12, Nismo injectors you get the picture. It was rough as nuts and basically the guy I bought it off had been way to ambitious in making a show car, had stripped it and given up. Rough around the edges but with all the right parts seemed like a good donor car for the blue beast.
I wont post a big photo of it because it's too ugly. I even got heckled driving it one night before i took it off the road and got told "to take my shiver box home". HAHA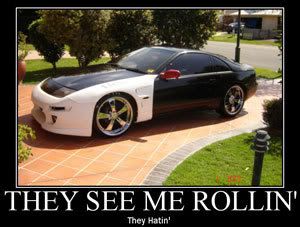 After 6 months of being at B&R Motorsport at Oxley and about $6k, i got the blue car back (sent it back many times as it wasn't right) with the good driveline, rebuilt turbos and clutch, on 19psi and putting down 500hp at the wheels. It was pants wettingly fast, like supprised a couple of guys riding 600cc sports bikes fast... Until it blew up 2 weeks later due to a blocked radiator and bad tuning. Melted pistons and spun bearings nice. Almost straight after B&R went broke, left my black car stripped (they were suppsoed to be putting a stock motor in it) and i was missing a couple of $1000s of parts - also nice. APC then charged me $1000 and 3 months to tell me I shouldnt bother rebuilding it as everything was stuffed from the turbos to the block and crank (which it wasn't) and i should just scrap it and buy a ZX one of the mechanics had for sale - even better. So at this point i was about $40k out of pocket and had two stuffed cars. Here it is at it's final resting place - my mum's garage waiting for love and mainly money. ZXs are gold digging bitches haha and yes my Mum does drive a 1998 180SX Type-X and she's 65 - cool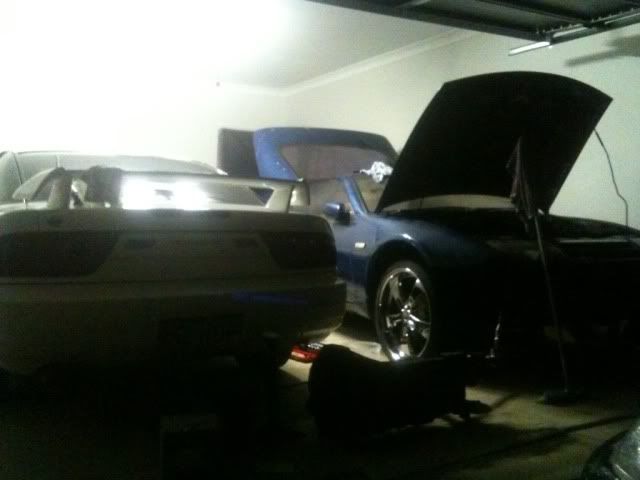 So fast forward four years into the future and i was feeling some major Zed withdrawals. After a year of casual looking i ended up with this two owner, full service history with receipts '73 240Z. Only mods were koni reds, king springs and a pair of Recaros (it didnt come with fender mirrors). Had to trailer it home as the exhaust had rusted off and the clutch master was leaking, but that didnt stop me from taking it for it's first lap around the GC after a quick clutch bleed, bit noisey though
New exhaust (2.25"), gearbox boot, front tyres, adjust hand brake, new points got the old girl going enough for rego. The fuel in the tank was so old crap it wouldnt run without pinging even after filling it up with fresh stuff so i ended up having to drain a 3/4 full tank - good one idiot. Next up the ugly foglights were taken off and the park lights were hooked up to flash for indicators like the series 1 240Z.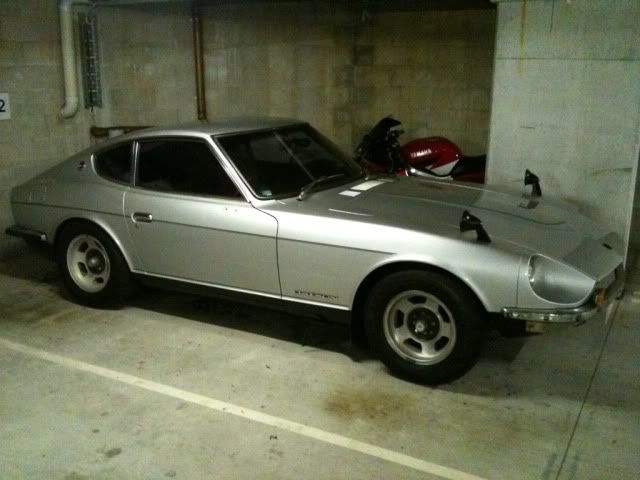 Next things to go on were:
Crane Hi6 CDI and Fireball Coil
S30 Long stalk fender mirrors
180B wipers (had nasty plastic ones)
Nardi Torino Steering Wheel
Fairlady Z front badges
Rota 16x8 +4s all round
Various bits of the car were pulled appart and cleaned up along with spending 10s of hours making a working clock from bits.