Hey all,
Some of you may remember I purchased a race L28 late last year with big plans to put it into my 260z for extra grunt and triple weber fun. Well after starting a new job in january I can't see myself getting around to the swap, and I am going to sell the engine and the parts that came with it.
I bought the engine from Perth for $4000, however as I have not inspected its internals (It has been sitting on an engine stand covered by sheets in my garage since I got it) and I want it to be a quick sale I am willing to part with it for
$3500
. To be clear this price is for all of the parts shown in the photographs, block, webers, etc.
The previous owner assured me it would have no trouble making 170 HP atw.
The original seller details are listed below:
http://www.viczcar.c...0.html#msg75270
L28
3x 45 DCOEWebers
Extractors with shortened secondaries
E88 head port matched
Datrally cam with lash pads and heavy duty valve springs.
Hypotechic flat top pistons, 020 thou, fly cut, approx 10.5-1 comp.
Vernier Cam Gear
Balanced, flywheel dowled to crank.
BMW harmonic balancer.
RPM pressure plate with strengthened straps.
Button clutch.
Alternator
Electronic dizzy
Less than 15 hrs since rebuild
No flat spots pulls 2500 to 7000rpm
Runs on ulp 98
$4000
ph Tyson 0439510076
tysonjlamp@yahoo.co.uk
Can arrange postage at buyers expense.
Have some high resolution photos which can be sent on request.
The headers are in pretty average condition (they were rusty upon delivery), but apart from that the engine is in great nick.
The only thing that I can't include is the alternator that came with it, which wasn't in very good nick anyway so I had taken it apart.
Some photos:
This is what it looks like assembled: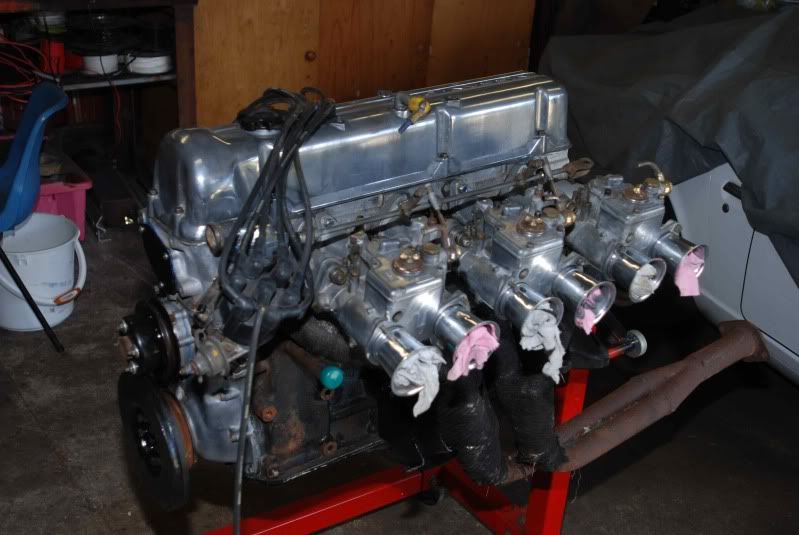 This is where the engine is now in my Brisbane northern suburb home: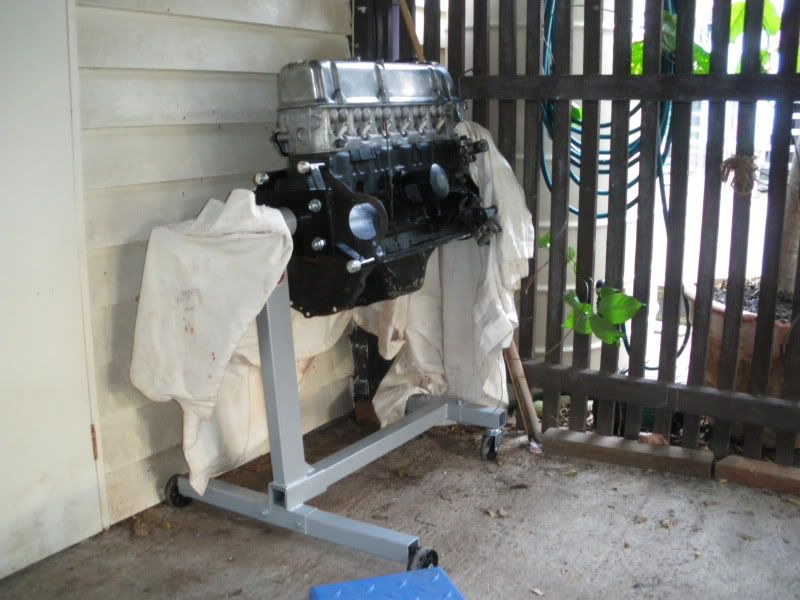 The webers have been kept indoors covered by a towel to keep dust etc off them:
The headers are useable but don't look very nice:
Some history of the motor:
It was used by Tyson, the previous owner, in his race 240. He sold it to me after he bought a complete race car to replace his 240. He built it himself and had many years experience of building race motors. It was built for club motorsport, and using this motor he won the state hillclimb in 2004.
He had spent roughly 10 hours racing since the engine had been last rebuilt (replaced the 'big ends', mains and rings) before he took it off the road in 2008. He did a cold compression test prior to shipping to me and sent me photos of all cylinders with pressure above 190 PSI. To reduce the inaccuracy of this test after the engine had been sitting he had primed the engine with fresh oil.
Here is the contents of an email from Tyson describing some more engine details:
cam dial in specs 120 thou lift on no1 inlet vlv at TDC when on the exhaust stroke.

Oil used is Castrol Edge Sport 10W-60. As said before it currently has a belly for of Mobil 1 which I would change before you start the engine for the first time. Pull the plugs, put alittle oil down the bores (not too much), crank until you get oil pressure, then replace plugs and fire up.

Plugs- The current plugs are NGK BP7ES which are perfect for track work as they are a colder than standard plug. If you find these plugs are fouling as a daily driver (car hard to start) Then go to NGK BP6ES and keep the 7s for track days.

Remember to ensure that the accelerator pumps are working in each weber throat as discussed.

Will go to 7000rpm but limit to 6500rpm even on the track to extend engine life. The cam is all over by 6000 anyway. If you do want more hp the engine could handle a bigger cam.

Don't run it on anything less than 98 octane fuel!!!

The engine makes power from 2000-7000 RPM. The major mods to the engine include:
1. the valve train was rebuilt,
2. a mild cam (close to 74 degrees) was put in it,
3. new hypotechnic pistons were put in it,
4. the pistons were fly cut (which is not being used with mild cam),
5. the triple 45 webbers were installed by Darrel Penly? (go-to webber guy in WA), they have 135 mains and 36mm chokes.
6. l28 standard rods with cast ridge marks ground back,
7. the head has a mild port job where it is slightly polished port matched and all combustion chambers deburred (not radical but cleaned up),
8. the cam has an external spray bar and
9. the carbs have aluminium ram horns.

The motor were that it is easy to drive on the road and has no trouble making power at low torque. The button clutch does not have a solid centre, it still has springs, so it is reasonable for road use.

It makes 180 HP atw when being raced, and I expect at least 170 once you first put it in your car and tune it.

There is no work required to get the engine fit for running apart from reassembly and running it in slowly with fresh oil, and other standard procedures after an engine has sit for a few years.


I've tried to include as much information as I can in this post, but feel free to ask questions and I'll do my best to answer them.
The original for sale post by Tyson is here:
http://www.viczcar.c...0.html#msg75270
My mobile is
041
-SIX
810 90
-SIX
Cheers!
Steve