Okay! I've decided I'm definitely going to go ahead with the comic, though it will be a very long process due to other commitments. That said, it's a go!
This is the first character I've designed for the story. He's not the main character, but I can already tell he'll be my favourite.
He's probably going to be the best friend of the main guy (the main guy being the one who buys the 240Z). He's a smartarse, opinionated, biased, and likes to stir the main character up.
He doesn't have a name yet.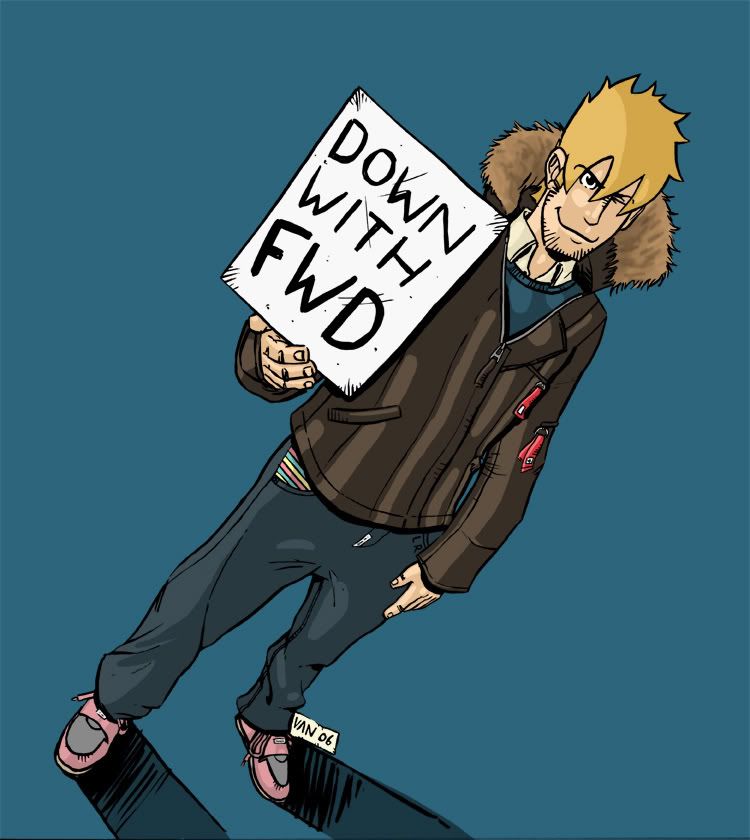 Stay tuned for more character art, and maybe another drawing of the S30Z!
UPDATE:
Here's the main character. His name is Alex, and he's now got quite a lengthy backstory. So he's going to be good fun to write and draw.
Anyway, this needs some cleaning up, quite a lot of shaky lines on the car. And colouring needs to be done, of course!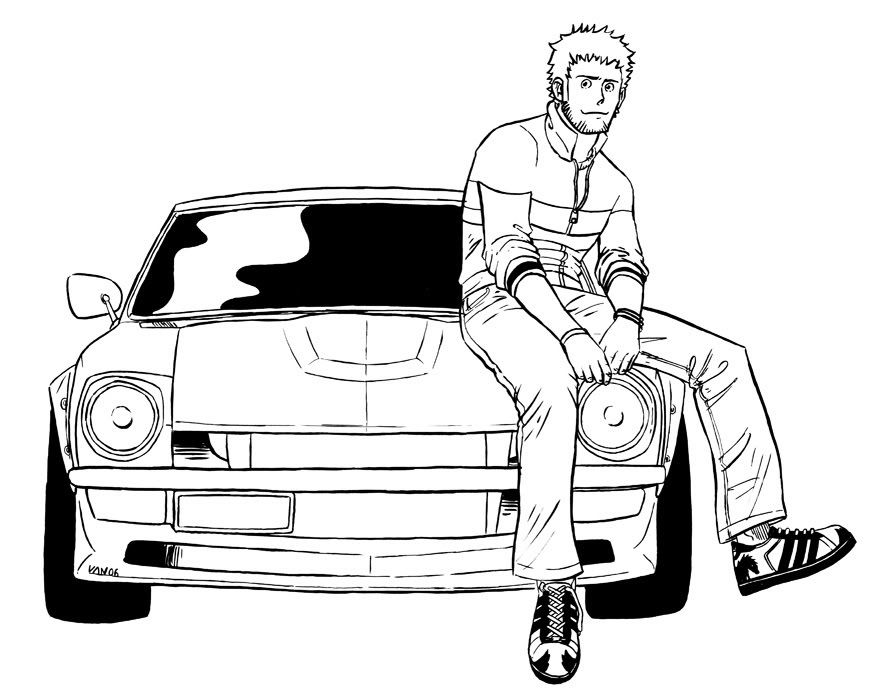 Photo reference:
Yes, that's Ben Affleck. Hey, you use what you can get, alright?
-------
UPDATE: 9th Nov 06
The number plate isn't permanent, I want you guys to come up with something clever (and inoffensive non-bogan of course, so nothing like "RACEME or CUL8R or NVMYZ)
I just wanted something to fill the plate for now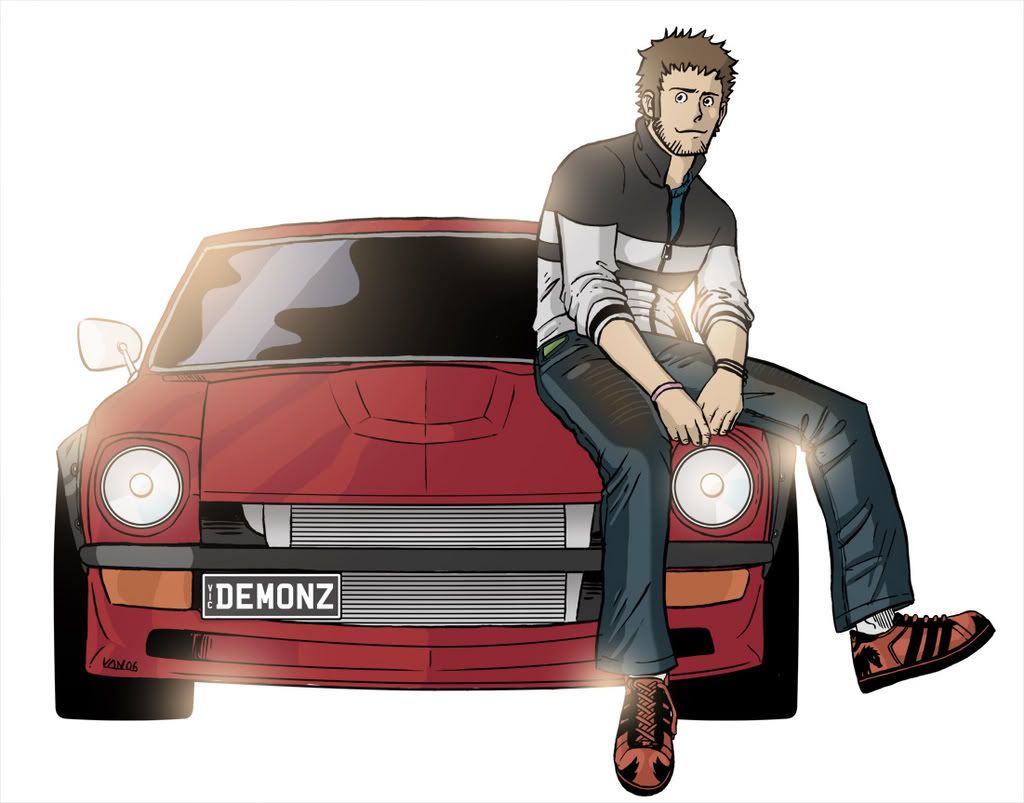 UPDATE: 17th Nov 06
Okay! Here are some more sketches, and these ones are likely to make up the cover for either the first or second issue (second issue? Sheesh, I hope I make it that far! Heh).
The first sketch is our hero, Alex, sitting in his Demon Z (absolutely a nod to the Devil Z of Wangan Midnight
).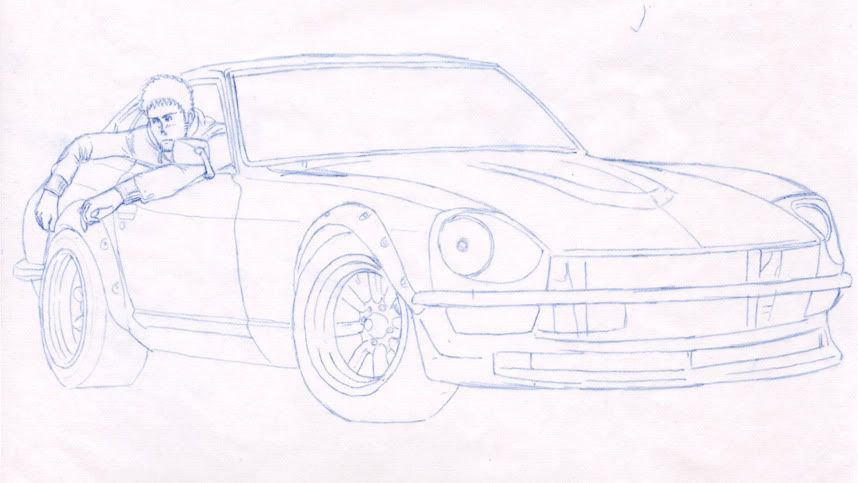 The next sketch is the bad guy, with one of his slags clinging to him. I haven't got a name for him yet, and he's not
technically
a "bad" guy. You see, Alex and he were racing one night about 5 years back - before Alex got the Demon Z - and the bad guy had his younger sister in the passenger seat of his car. Something happened to Alex's car, causing him to collide with the bad guy's car. The bad guy's car went careening into a power pole after a couple of spins, and his sister wound up dead. The bad guy has sworn vengeance, and in the 5 years since that night, he's become quite the rough nut.
Anyway, that's the idea at this point.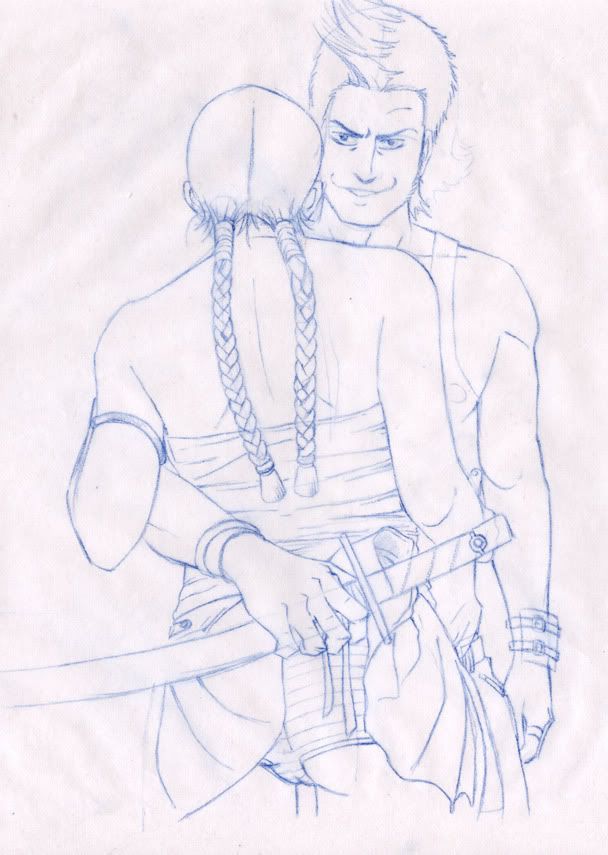 So these two sketches will be combined into one piece, with the comic's logo mixed in somewhere too.
I hope y'all dig it!
UPDATE: 18th Nov 06
Okay, some test colours for the bad guy.
I used Pantone markers for this, which are an alcohol-based professional quality set of markers, and they're quite expensive. Think AU$60 for a box of 6! We've got 5 boxes so far, heh.
Alas, I don't yet have as many colours as I'd like, and the guy's hair turned out a bit orange. He'll have darker brown hair in the comic, but maybe blonde. Not sure yet.
Anyway, I hope you dig it! The final colours in the actual cover will be much nicer, I hope. This is all practice.
EDIT: 8th June 2007
Here's a progress shot from a different scene, using a photo of Sulio's Z as the model (thanks to Sulio for mailing me a bucketload of photos on disc!).
I've decided to use Photoshop rather than Manga Studio. I'll probably still use Manga Studio for doing textures and speed-lines and such (those familiar with manga comics will know what I mean), but the actual sketching and inking will be done 100% in Photoshop.
I'm hoping to use no paper at all! Gotta love having a drawing tablet, haha.