Hey guys. Just thought there seems to be a bit of interest in Marque in the Park in Canberra this year, so I thought I would start a thread.
I would to get numbers of people interested in going as soon as we can and make a decision if we have enough people to go along as Auszcar, or if only a couple of people are interested, the Skylines Australia guys will no doubt be happy for us to tag along. Here is a copy of a post put up on SAU (Skylines Australia), ACT:
With around two months to the greatest spring car show in Canberra, it's time for participants to register their interest.
We're looking forward to a great year – it's 60 years since the mighty Morris Minor was born, the home-grown Holden emerged, that stalwart Land Rover pushed the boundaries and the first Honda hit the ground.
But Marques is more than that, it's a free-for-all great big show and shine for anyone with a set of wheels, either standard or modified, to join in.
We want as many as are rolling to meet at the Floriade car park on Barrine Drive near the Commonwealth Avenue bridge for a cruise to John Knight Memorial Park in Belconnen.
Then, we'll disperse around the park and enjoy a motoring extravaganza.
(If you have a static display we'd like to see you too!)
All the usual catering and trade stalls will be there, so bring the family, friends or just come on your own – we'll look forward to a great day out.
Marques in the Park is supported by Shannons Insurance, and SOS Recruitment as major sponsors and assisted by Injektd, Elite Car Sound and Vision and Green Light Mortgages.
Support those who support your passion!
We've attached a jpg of the Marques 08 flyer and poster. We have hard copies available, so if you would like further promotional material drop us an email at marques@actmotorclubs.org.au or give Geoff a call on 6296 2442.
To help us allocate appropriate space for you and your friends, call us, drop us an email or a line at the above address.
Marques in the Park is organised by the Canberra Region Morris Minor Club of behalf of the Council of ACT Motor Clubs.
Look forward to seeing you there on Sunday, 23 November 2008, from 8 am and then at John Knight Memorial Park for a relaxed day on the shores of Lake Gininderra.
Cheers,
Canberra Region Morris Minor Club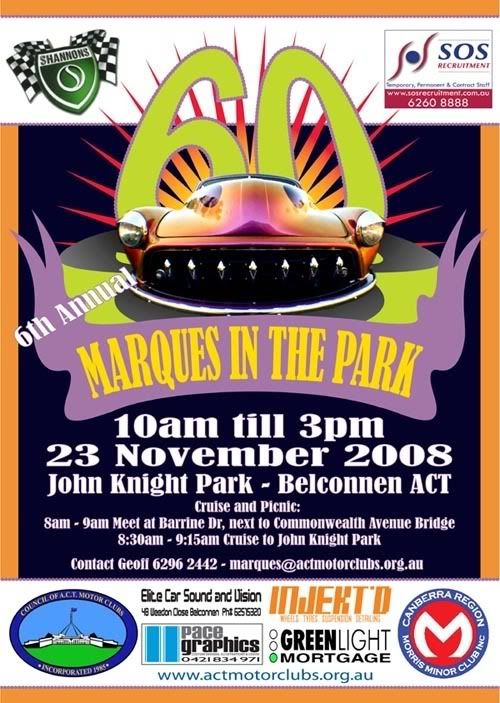 Add your name to the list below me:

sco_aus