I was going to leave this until the car was finished to the level I want it to be but when is a Z project ever finished
So here goes
I purchased the car over three years ago. At the time I had a 180B SSS sitting in the shed that I had stripped back to metal and had saved money to do an SR20DET conversion. Just as I had finished saving and was looking for an engine I spotted this 240Z in the trading post that had been built for club days and hill climbs. It already had the L28ET conversion, coilovers and a brake upgrade and all of the work had been done very well. The body and paint however was more like an afterthought but I ended up getting it for $6,500 which is about what the engine conversion on the SSS was going to cost whithout out even thinking about brakes, suspension, etc.
The car how it was when I bought it
Looks ok in the picture but the closer you got the worse it got.
Another reason for purchasing the car was that my dad did his mechanics apprenticeship at a datsun dealership so he knows most datsuns inside out and the L series is so easy to work on compared to the later engines. So we set about fixing little bits and pieces and after a while had it ready for some track days. I bought the car with the intention of running some club days and hill climbs like it was built for but after two track days with some mates I had the bug and stripped the car out ready for a roll cage. While it was stripped we replaced the drivers side floor pan and fixed some other bits of rust and then got the car painted inside and out. Luckily my best mate is a spray painter so it cost me not much more than the materials. I didn't like the colour when I bought it but it seemed too much effort at the time to change it and it's grown on me since.
Here are a few pics from just after it was painted
Since then it's had a couple of different engines and gearboxes and many minor modifications. It's amazing how many little things go wrong when you turn a club car into a proper circuit car. Everything is under much more stress and gets much hotter with the longer races. We have never really tried to make the car go quicker than when I bought it. Just tried to make it more drivable and reliable and as a result have taken 3 seconds off my laps times without trying!
Here are the specs as the car is now
Engine
-F54 block
-P90 head (combustion chamber volume slightly increased, 8.2:1 CR)
-Standard crank
-Standard rods
-CP flat top forged pistons
-B grind cam
-Horrible looking home made log style exhaust manifold, does the job so it's still there
-T04 turbo
-Turbosmart dual stage boost controller (normally set around 13psi)
-Tial external wastegate with screamer pipe
-4" dump pipe
-3" mandrel bent exhaust
-Huge custom made intercooler (I don't have any pics of this but it fills up the entire front of the car)
-Turbosmart BOV
-Commodore throttle body
-Modified 280ZX inlet manifold
-Bosch injectors (haven't been touched since i bought the car so I'm not sure on size)
-Custom fuel rail
-Holley Blue lift pump
-Custom surge tank
-Bosch main pump
-Haltech F9 computer
-4 core Torana radiator
-High pressure/volume oil pump
-Oil Cooler (currently fitting)
Drivetrain
-Standard 280ZX box (to be replaced with modified FJ20 box purchased from d3coy)
-Button clutch
-Welded R180 diff (3.9 ratio Baskerville, 3.5 ratio Symmons Plains)
Suspension
-Koni adjustable shocks
-adjustable ride height
-unsure on spring brands or rating (haven't found a reason to change them yet)
-standard front bar
-16mm Whiteline rear bar
-Noltec bushes right through
-Custom front strut brace
-Relocated lower control are mounting points
-Adjustable castor rods
Brakes
-Honda Legend ventilated front discs
-Mazda RX7 series 4/5 front 4 spot Callipers
-290mm ventilated rear discs (I had these given to me and I'm still trying to work out what they're off, possibly R31 GTS Sillhouette)
-R32 GTS-T rear 2 spot Callipers
-Wilwood proportioning valve
-15/16" master cylinder
Wheels & Tyres:
-15 X 7 Superlites
-215/50 Bridgestone Potenza RE55S
Body:
-6 point CAMS approved roll cage
-Factory style rear wing
-Not sure what the front bar is (I got the mould with the car)
-Undertray from the front bar back to the radiator support
Performance:
-174rwkw on 10psi (old engine set-up, would have a little more than that now)
-I've never ran a 1/4 mile in it but it's on my to do list
-Baskerville 1:00.8003
http://www.natsoft.c...05/2008.BASK.R8
-Symmons Plains 1:03.0700
http://www.natsoft.c...04/2007.SYMM.Q2
That's all I can think of for now. Here are a few pics of the car in action.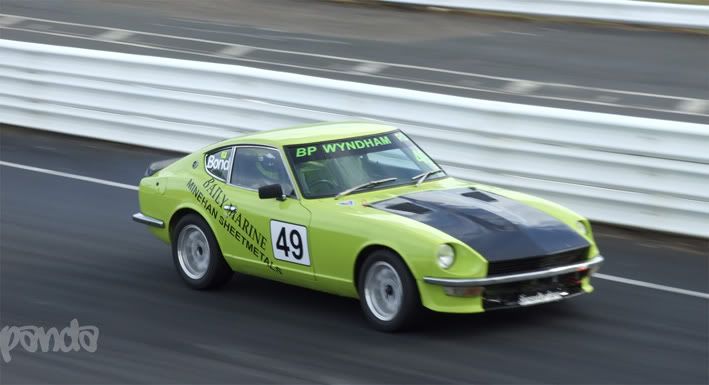 http://www.circlewor...ssrnd3&start=90
http://www.circlewor...sr2-G1&start=45
http://www.circlewor...ssr2-G2&start=0
I run our state circuit racing series in a class called Targa class. It's designed for modified street cars on DOT approved tyres with very little rules on modifications as long as you don't get too close to a sports sedan. It's then split into three classes based on capacity and times (how much money you want to spend
) I run in the 2nd class (Targa B) which is mainly full of Skylines and Evos. Sounds a bit dodgey but the class structure works well and it usually draws the most entries to each round of the series.
In my first season last year we had a few relaibility problems but were still very happy with 2nd for the series. This year the car has been great (touch wood) and I'm just in the lead of the series with two round wins and a third after three rounds. 2nd place is only a handful of points behind me and there's still four rounds to go. Then there's those Evo's which will be straight back into the game if we get a wet meeting or two
Looking forward I'd like to move up to our Targa A class but I'll need to find around 3 seconds at Baskerville and around 6 seconds at Symmons Plains! The Targa A cars include a GT3 RS, a 200SX with a $200K+ build cost and a VS V8 supercar with the suspension changed to suit radial tyres!
The modifications I hope to be able to afford so I can run Targa A are:
-Better engine management (I need something that controls ignition)
-Possibly a stroker engine if I can find an LD28 crank at the right price
-R200 LSD
-Front brake upgrade
-17 X 9 wheels under ZG flares (Not sure what wheels I'll find without spending big $$$'s to do this. I would go 16 X 9 but Bridgestone don't make the RE55S to suit)
Also looking to buy a block of land and build at the moment so who knows when/if this will happen.
Finally here's some pics of my helmet