Hey guys,
I am cleaning out some random parts I have collected over the last few years that I no longer have a use for as my build either took a different direction or I just grabbed them as backups but now I don't require them.
Feel free to make an offer on parts and this is just Part one of my sale as I am slowly cleaning stuff out so this is just the easiest stuff to get to.
260z +2 Headers and exhaust system - SOLD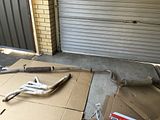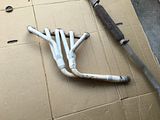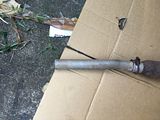 What I'm sure use to be sold as a "Sports" exhaust setup. Comes with the headers and exhaust and was came off my +2 so if fitting to a 2 seater it will need some trimming I would imagine. Also was cut off just behind the headers as shown in the photos and could use a new tip
Would be a 2" pipe for the exhaust as well.
L Series headers to twin pipe - SOLD
They look rusty but I can't see any holes so should come up nice with a blast and some high temp paint. Goes into a twin pipe so would be ideal for somebody looking to run a full twin system all the way back. I added the picture with it on top of the other set to show pipe length is pretty much the same.
260z stock carb setup with air filter - SOLD
Stock carb setup from a 260z. Not really much to say but comes with air cleaner as well and looks pretty complete.
Nose Cones/Sugar Scoops/Whatever you want to call them - $100 each. Red one now donated.
I haven't cleaned any up (the thought crossed my mind so I could charge more
) so its a pretty honest representative on the condition they are in. Each have their own minor issues which I have tried provide pictures of but I can see any denting or major issues with any of them.
All parts can be picked up in Mount Warren Park, QLD or I can post stuff via e-go.

More parts will be listed in the coming weeks as I sort things out.
Edited by Triptych, 27 June 2016 - 12:20 PM.