Les Collins Racing, Peter Mac & myself proudly introduce the Green Hornet 240Z & the LCR L34!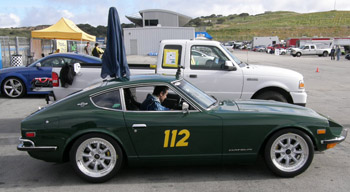 It's not hard to see that Greg has a stirring passion for his 240Z. Theirs has been a long-term love affair. Fully committed to the spirit of the Z, Greg has been on a 17+ year journey of constantly improving all aspects including brakes and suspension while steadfastly resisting all temptations of different engines, forced induction or fuel injection for his beloved 240Z – widely known as the "The Green Hornet".
Attention was again focussed on the engine when old faithful of 17 years succumbed to a broken LD28 crankshaft.
He'd become jaded with the claimed performance BS from local engine builders servicing the racing scene in California, and as he started to explore his options it was looking like Kameari in Japan might be the go, but after a long delay in trying to get something underway there, a chance conversation on the 'Hybrid Z' web forum led Greg to contact Les Collins
To Greg's surprise his first long distance conversation with Les proved to be a revelation. Here was someone he could relate to, someone who was still making strident advances in L-series engine development, and someone who seemed committed to making his clients' motorsport ambitions a reality...
The rest of the story can be viewed here: http://lescollinsrac.../3435cc-z-racer
Specifications are:

Displacement: 3435cc
F54 Block - 90mm bore with full race prep
LCR spec 90mm Stroke Billet Crankshaft
ARP Main studs
AZC Sump
Custom flywheel & OS Giken Clutch
LCR spec Forged Rods
LCR spec SPS Forged Pistons
11:1 CR on PULP
LCR race spec P90 cylinder head - flows over 250CFM @ 28"
Special LCR spec camshaft
Triple 50mm Solex PHH carburetors
LCR Extractors & LCR 3 inch Stainless Steel system with Borla & Magnaflow mufflers.

Gearbox:
LCR / Albins hybrid direct drive gearbox.
Ultra close ratios (2.4 1st gear)
LCR short shift conversion.

Edited by Lurch ™, 30 September 2015 - 09:34 AM.