I have 3 Zs, am currently restoring the one in my ava. Shes a 1975 260Z (2 seater) that needs a bit of loving. I intend to keep her fairly original with exhaust and carbies being the only mods.
The 2nd Z is my daily driver, shes a 1976 260Z (2+2) and only realy needs some panel work and a freshen up paint job. This will happen when I finish the first one. No I'm serious stop laughing, I mean it!
The 3rd Z is laying down her life so that the other two may live, she is a selfless sweetheart that is going beyond the call of duty.
I have entitled this thread Hellfire's assorted mistakes because I'm no mechanic and will more than likely share more mistakes than triumphs.
Todays effort I believe to be a triumph but I suspect that you lot will share with me why it's not, and I am grateful for all knowledge that is offered in a helpful manner.
Today I decided that I would have a go at restoring one of my factory alloys. I have 14 to choose from so if I made a mess of it I wouldn't be devastated.
So this is what my starting point is...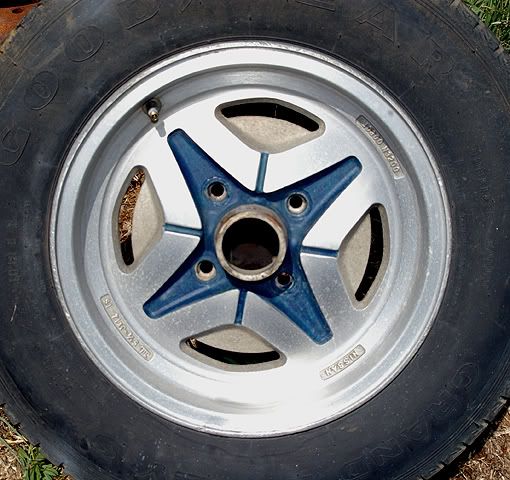 As you can see the wheel hasn't been polished in a while but it is not beyond redemption. The recessed areas have been colour coded to match the Z it came from. So after about 20mins of swearing and sweating The wheel looks like this...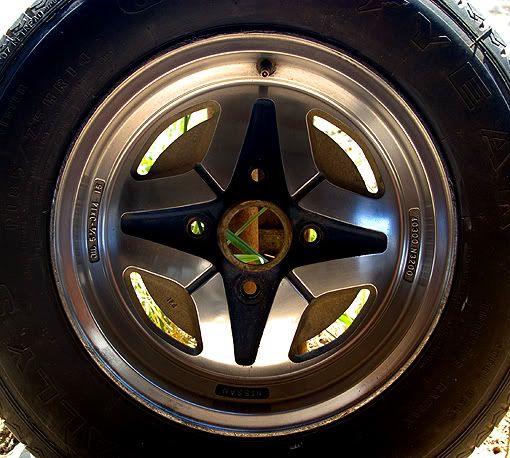 As you can see it came up all right but could be better. So next comes the repaint, I was originally going to mask of the wheel and pressure pack spray the recessed parts. After messing about with the masking tape for 10 mins and getting no where fast I decided to turn to plan B, hand painting with a fine brush. It was tedious but I think it's OK for a first coat.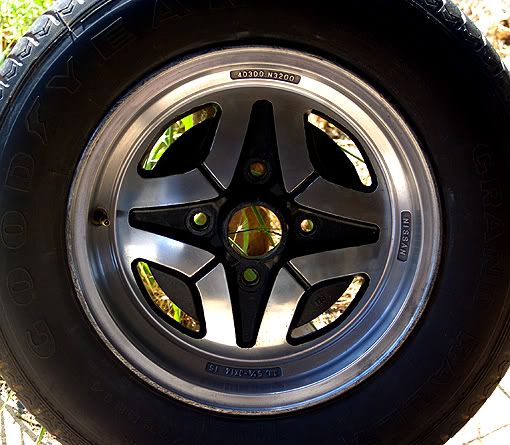 When I have repainted the hub haps and installed the wheel, I think the black will contrast the shine of the alloy to highlight it's brilliance. When this is done I will post another pic.