Latest Posts
Latest Forum Posts
Updated: 1 min 11 sec ago
I recently posted this on George's build thread (sorry George).
http://www.classiczcars.com/topic/48409-hs30-00019/?p=474898

But it got me thinking about trying to get photos of the early 240z's to see where they are at and what shape they might be in. I've included a collection of VIN's I've collected from various threads and sources, some of these cars I've seen for myself, but others I haven't.

The ultimate goal would be to get a collection of photos of early HS30 cars and send them to Nostalgic Hero magazine in Japan, they could do a feature on early cars in Australia and I'm sure there would be quite a bit of interest globally and locally also.

Anyway as I get photos I'll add them to the first post here.. If you have anything to contribute or information to add please do! If you know a car has deceased please also let us know.

This isn't designed to replace the WA Z Car register, rather give a pictorial view of these cars.
HS30 00001 - Likely retained by Nissan
HS30 00002 - As above
HS30 00003 -

HS30 00004 (Melbourne collector).

Album: HS30 00004 14 images 0 comments

Last spotted in 2001 Z Nationals?
More about this car here: http://www.viczcar.com/forum/topic/11290-early-australian-motoring-press-review-hs30-0004/

HS30 00012 (Brisbane)

Album: HS30 00012 7 images 0 comments

HS30 00013 Confirmed Deceased (HS30-H confirmed here)
HS30 00016 (RB26 power, original L24 missing)

Album: HS30 00016 9 images 1 comments

HS30 00019 (George's Car) - restoration thread here: http://www.viczcar.com/forum/index.php/topic,13841.0.html


HS30 00021 - South Africa
Colour: 115 Metallic Blue
Refer to post here.
South African Press / Demo car that is still in South Africa. It is in pristine condition and until recently lay in a Nissan "dead house" before being bought by a well known collector. I've been trying to negotiate to buy the car but he is adamant that he will never sell. Apparently Nissan Japan have offered to buy the car back from him.

HS30-00024 - TKS33 SA694 - Works Rally Car - detail here


This car was also used in the 70 Monte Carlo rally where it DNF'd and 26 was also used in the '71 RAC rally where it was 19th. (Source Brian Long book Datsun Fairlady Roadster to 280zx book)
HS30-00025 - TKS33 SA695 - Works Rally Car - detail here - Later went on to become the original BIG SAM (version 1).
HS30 00026 - TKS 33 SA696 - Deceased.. - detail here


HS30-00027 - TKS33 SA697 - Works Rally Car - detail here


HS30 00030 (Tasmania - Confirmed)
HS30 00034 (registered 'UAR 609J') - UK motoring press - Race Car (still in UK)
HS30 00035 (registered 'MBP 72J') - UK motoring press - Restored (still in UK)



HS30 00039 (Ledge's shop)


HS30 00044 (NSW WA Z Register)
HS30 00046 (Deceased - semi trailer write off) - Last photo from 1996 advert.


HS30 00051 (NSW WA Z Register) - Build thread here.



Original Engine Number: L24 011436

HS30 00060 - Last seen on eBay Tasmania. (Circa 2006)


This car caused quite a stir when it appeared on eBay back in 2006. See various links below for discussions on it.

http://www.viczcar.com/forum/topic/339-car-hs30-00060-wants-20k/
http://www.zcar.com/forum/10-70-83-tech-discussion-forum/114918-early-240z-no-hs30-00060-a.html
http://zclub.net/forum/showthread.php?t=6530
http://www.classiczcars.com/topic/19312-1970-240z-low-for-sale-on-ebay/
http://www.thezgarage.com/forum/viewtopic.php?f=3&t=565

Original asking price was $20,000 - but later reports it was dropped to $6k, final sale figure is unknown however.
More photos at link here.

The car was originally Safari Gold 920, later repainted white.
Original Engine Number: L24 011646


HS30 00063 (Perth with collector/enthusiast)


http://collections.museumvictoria.com.au/items/800697
http://www.viczcar.com/forum/topic/13497-introduction/
https://www.facebook.com/DatsunMotion/posts/557336500981312

HS30 00067 - (Graham - collector in WA)

HS30 00068


Last seen on Gumtree (Jan 2015). Now sold on to restoration shop in Japan.
Previously seen here.

HS30 00084 - Great unrestored condition. (link here).


Album Link: https://picasaweb.google.com/107400787026175995661/HS3000084?authuser=0&authkey=Gv1sRgCLD2zYyPhIqFew&feat=directlink
HS30 00091 - Last spotted in trading post 2003 - see here.
HS30 00099 - Donnybrook WA
HS30 00112


Don McKays Targa car SC Racer, initially built it for Michael Corke by Zshop, then sold to Don who still races it.

HS30 00114 - Airlie Beach, Whitsundays (QLD)

Member introduction link: http://www.viczcar.com/forum/topic/14174-inspire-me-240z-build/

HS30 00117 (Graham - collector in WA)

HS30 00121 (VIC) - Dimitri (confirmed I've seen his car many times)


Video here: Car Torque TV
HS30 00131 (ACT - WA Z Register)

HS30 00134 (SA - Gawler) - Undergoing rotisserie restoration - How it looked previously.


HS30 00145 - NSW


Link to full album.
For sale ad here.
Description from eBay (few years ago now ~2007).
Previously owned by Dazza on Classiczcars.com

HS30 00149 (Lurch) - Confirmed seen this car before...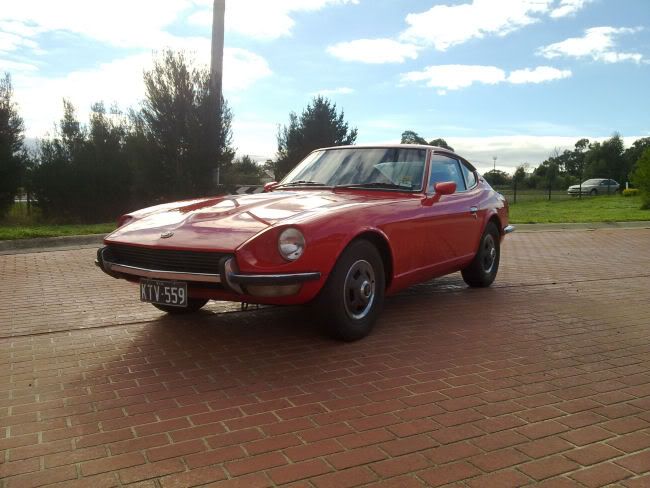 Thread here: http://www.viczcar.com/forum/index.php?topic=7104.0

HS30 00150 - Sydney NSW


Engine No: L24-015253
Link to album: https://picasaweb.google.com/107400787026175995661/HS3000150240z?authuser=0&authkey=Gv1sRgCL6tvtT49Law4wE&feat=directlink
Project thread here.
Member Name: Gav240z
HS30 00151 (Shannon's auctions a few years back, confirmed)
http://www.shannons.com.au/auctions/2010-shannons-melbourne-autumn-classic-auction/datsun-240z-coupe/


HS30 00157 (QLD - WA Z Register)
HS30 00160 (Member Magnus)


Link to post

HS30 00162 - Zshop in Melbourne.
Link to Facebook page.

HS30 00165 (Was on CarSales not long ago link here, was butchered, now being turned into a Ferrari GTO replica) - Spoke to new owner.



HS30 00173 (Western Australia) - Current owner purchase car in late 70s. 905 Red originally, but has had at least 1 repaint.




HS30 00177 - NSW



More photos in this album.
It was featured in Autospeed here in 2001.
Toyota engine swap 7MGTE
More detail on car here.
Last spotted Wetherill Park police station impound.. About 15 years ago.

HS30 00181 (SA - WA Z Register)


Album photos. https://picasaweb.google.com/107400787026175995661/HS3000181?authuser=0&authkey=Gv1sRgCN7DpvmDudTMBw&feat=directlink

Exterior colour: 115 Blue
Interior colour: Black
Engine Number: L24-017870
I bought the car from Sports Car Centre in NSW in about 2008 who bought the car from Warren(All Z Parts) who bought the car from Walter Fath. The car was about 80% complete rolling shell. However most of the bolt on components that make it an early girl had been sold off by Warren. No engine, gearbox or diff came with the car. The car was going to be turned into a race car by the guys at Sports Car Centre but had a change of heart and decided to build up a Mazda MX5 for a one make racing series. The 240z however came with a cut up 260z 2 seater with most parts. I dragged all this back to SA with 3 mates in 3 separate cars with car trailers. After about 3 years of contemplating what to do with the car I decided to sell the shell as there was a lot of work required to restore it and it didn't have the original engine. I put it up on ebay and sold the car back to a bloke in NSW who had an accident in his race car and wanted to re-shell his race car. That is the last I have seen or heard of it.

HS30 00183 (QLD - WA Z Register)


HS30 00184 (SA - Link here)



HS30 00187 - Retired in NSW (Deceased)


Engine No: L24 017589
Colour: 905 Red.

The chassis rails were completely shot as air con had been fitted and a hole had been bored in the floor to allow the condensation to drip into the LH chassis rail. The RH one wasn't much better, as was the rest of the car. Wisdom in hindsight - I should have tried harder to save 187.[/size]

HS30 00189 (Victoria when I saw it, moved to South Australia).


Link to album: https://goo.gl/photos/VNdUDx2BKaYSh3GJ8

HS30 00208 - Zshop in Melbourne.


Link to Facebook page.
Link to album here.

HS30 00212
Album: HS30 00212
5 images 0 comments
HS30 00213



#213 is the black car in the foreground.
Post here.


HS30 00219
Featured in May 1998 edition of "Australian Classic Car" magazine.
Originally painted Kalahari Tan (918) orange. Now blue.
Owned by member: Zedhead70
Link to album



HS30 00227


Link to album: https://picasaweb.google.com/107400787026175995661/HS3000227?authuser=0&feat=directlink

HS30 00233


Last seen here.
Last sold price: $16,500 (2010).
Link to full album.
Car is in very good original condition with no rust. Car was repainted approximately 20 years ago. An early 240Z - build number 233, with original matching number engine. Has 15 inch Simmons rims, with original rims available if required. Original spare wheel still in place. Original radio and clock still working. New carpet just fitted. Car has just been tuned and serviced and drives and handles well.

HS30 00236



Engine Number: L24 018454
Colour: 920 Safari Gold.
Link to full album here.

HS30 00251



According to the previous owner matching numbers L24 engine, turned into convertible.
http://www.viczcar.com/forum/topic/8003-1971-datsun-240z-convertible-for-sale-registered-until-feb-2012/
Recently listed for sale again on Gumtree.
http://www.viczcar.com/forum/topic/1924-cars-for-sale-3rd-party-sites-ebay-carsales-etc/?p=167072

HS30 00254


Link to Album: https://picasaweb.google.com/107400787026175995661/HS3000254?authuser=0&authkey=Gv1sRgCL_J66b6z_Kxew&feat=directlink
Current owner also has HS30 00868

Spotted this car on the back of a car carrier on its way to Grand Auto wreckers(Datsun/Nissan Wrecker) on new year's eve 2003 which was near my place at the time. I rang Anthony the 1st working day back in the new year and struck a deal to buy it (I have known Anthony the owner of Grand Auto Wreckers a long time). It sat in my shed in a very sad state, see pictures, for about 7 years until I had purchased all the parts to restore it to its current completed condition. The car was mostly complete with a matching number engine. I started the restoration in 2010 and was completed for the 2013 Nissan/Datsun nationals at Phillip Island. The car took out 2 awards and they were the best car 1970 to 1979 and outright car of the event(Robert Shannon award). There are some finished shots of it on pg18 on the 2013 Nissan Nationals thread under Events.

HS30 00259 - Newcastle NSW


Owner name: Ross


HS30 00267 - This car was scrapped / deceased.


Full album link.
Link to for sale.

HS30 00283
http://www.viczcar.com/forum/index.php/topic,13196.0.html


Link to album: https://picasaweb.google.com/107400787026175995661/HS3000283?authuser=0&authkey=Gv1sRgCLS41pqtscXxcg&feat=directlink

HS30 00287



Recently listed for sale (Nov 2015).
Project thread here.
Colour: 904 White Originally.

HS30 00288 - Previously owned by Mark (Mossy)
Details here.

Car was purchased by member Jeff43 (owner of HS30 00134), who subsequently sold it to another member Lukep240Z.

Jeff43 - I got this car as a bare shell from Mossy in mid 2011. I took the front left inner guard and radiator support sections of it for my car (134) and then sold the rest of the shell to a guy from Victoria (Lukep240Z
). He was planning to use that shell and take the bits he required to save it from a very rusty car that he already had. Plenty of people wanted the roof off it and that would have been a death sentence for it I would have thought. I have added 2 pics of HS30 00288 to my gallery. A few bits like the radiator support panel from this car went to Ledge to help on George's HS30 00019 car as well.




HS30 00295


Full Album Link
HS30 00297



Owned by Dr. Harry Corbett who previously owned HS30 0004, not actively being restored yet.
Link to album here.

HS30 00299



Now lives in the UK and has an engine swap to a BMW M3 motor.
See post here.

HS30 00300 - (Graham - collector in WA)


Previous for sale thread.
Car was a rally car and spent most of its rallying life in New Guinea. It has had a bit of a knock around as you would expect from a rally car but is in very good condition considering. Roll cage has been 90% removed.
New floors and rails just fitted. Brand new bonnet, guards and door skins.
Original 240z c/ratio g/box. Fuel injected L28 from 280ZX, Locked R180 diff and open centre diff.

HS30 00301



Link to more photos.

HS30 00308



Album link here.
Previous discussions on 308 are here, here and here.
Car now resides in The showroom at Bridgewater Nissan, with stock hubcaps.

HS30 00310 - Last seen in 1997 (sold by member dalee) - Registration was ZZ-04240 (Victoria - The Garden State Plates).



More photos (link here) - 907 Green was the original colour.
Update: Car is now owned by member Stavros240
I bought it off Damian Pearce in 2006, a budding motoring writer in Adelaide. He had tracked it a few times, but had lost interest i think. He had quite a bit of rust fixed in the dog legs, sills and lower front fenders. Unfortunately he chose to have the fixed sections sprayed in a darker green than the original 907, so the bottom half of the car is dark green and the top is 907. The car is now sitting in my garage half stripped.
HS30 00319


http://www.viczcar.com/forum/topic/12627-what-a-difference-a-set-of-wheels-makes/

HS30 00329



Previous owner was webmanic (sold in 2012). Now owned by Satrat Z

HS30 00330


Owner: Ackent1
Originally purchased from Brisbane, currently running an L28. Plan is to revert back to the original motor.
See post here.

HS30 00335 - NSW



Full Album Link.

It has undergone a full restoration about 6 years ago. The car still has the 71A Gearbox, only alteration to original was the head and paint (changed to Vitamin C). It now has an E88 head because it was in better shape than the E31. [/size]I had to use a couple of other 240Zs as donor cars as parts to build mine.[/size]

HS30 00339 - CarSales.com.au in NSW recently (Sept. 2015)



More photos at link here.

HS30 00347
V8Datto's build thread here.
Member: V8Datto



HS30 00352 - Currently in New Zealand undergoing restoration.
Painted Porsche Guards red.
https://zclub.nz - member name: 240znz

James: HS30 00352 was imported into NZ from Aussie in 1974 or 76, can't remember and I have the original MZ rego documents somewhere.
Matching numbers with a build date of 12/70 we think going by other L24 block numbers close to this one.

Hand throttle, solid B pillar, mystery dash button hole, chrome coat holders, vented hatch, rear deck is period Swiss cheese but hatch covers have been retrofitted. Will come in handy for the Jack and tools. No old tool covers behind the seats now but mounting points still there. Early 5 speed ( with a complete spare), 2 x E31 heads (modified E88 fitted).

Car is now painted. Upholstery next week. Triple Mukuni 44's I got for it are too big for the L24 so a new set of Weber 40's are soon to be ordered.
Photos to come in future...

HS30 00365


Link to album: https://picasaweb.google.com/107400787026175995661/HS3000365?authuser=0&feat=directlink

HS30 00373 - Western Australia (North Fremantle)


Owner: Bob Naylor
Link to more info.
Engine No: L24 021107
Owner since year 2000
Original colour: 920 Gold(?)


HS30 00384 - Melbourne



Build thread here.
Previous owner (Shaun240's father)
Previous owner photos here.

HS30 00389 (white) registered in NSW.

HS30 00396


Current Owner (NickF) words.

Matching numbers car.

I got the car mid 1997 with the intension of tiding it up. The PO used it as a daily driver it came without plates so I put it in the shed then nothing.
Been sitting there for nearly twenty years. I've never driven it! Needs paint and seats recovered a little panel rust?? don't have any badges.

Dash needs repairing engine needs freshen up. Most of the rust has been previously repaired, looks OK
It has a Fairlady grille, chromed rim headlight covers and 6/6.5x14 Watanabes.

Sounds too easy should have done it years ago.
Link to post here.

HS30 00399 - Member NEW240 (RB25 NEO)



HS30 00404 - Melbourne.



It was sold for an undisclosed amount after being advertised here in 2013.
Link to album

HS30 00408 - Graham Verbunts 240z.


Build thread here: http://www.viczcar.com/forum/index.php/topic,11888.30.html

HS30 00409 - Barn find. Needs work.



HS30 00415
Colour: 907 Green originally. Repainted 905 red.
Previously owned by Stavros240, sold on to Smugley who sold it to a guy named Rex, who is selling again.



Info from Stavros.
I bought her off a bloke in Port Melbourne in 1995...not sure how long he owned her for, but the car had spent some of it's life in East Gippsland I think, as the 71A box which was in it must have been replaced or re-built, as it had 'Bairnsdale' written on it. It also looked as if the car spent much time on dirt roads, judging by the volumes of dust on the underbody. It also had one of those 'Mountain Cattlemen care for the high country' stickers on the front bumper, which I promptly removed!

At some stage before my time with her, she was re-sprayed 905 red, but was originally 907 Green. She originally had the optional front and rear spoilers, but the front one had long gone by the time I bought her, and I removed the rear. Also had 5 slot Samson Engineering Magnums. Unfortunately it had an un-original L24, with an E88 head and the original early carbs. The rest of the car was pretty much original except for a missing radio and new floors. It was well in need of a full resto by the time I sold her in 2002. I actually sold it to Smugley, who passed it onto Rex Carr in much the same condition in about 2005. I've tried to search for her over the years on the net, but haven't been able to find any trace...

HS30 00418 - Owned by Marc (my_mad_z)

Gav240z: I recall seeing this car hanging from the roof of an S30z specialist in Melbourne (Warren used to own the place called ZWorx) in the early 2000s and it was a bare shell. I believe it may have been 920 Safari Gold originally if my memory serves correctly, at the time I was unimpressed with the colour.
. However it may have also been 918 Orange like #424 below.

Marc bought my 1973 240z and I believe many-a-nut-bolt and fastener were used from that car to put this 1 back together and on the road.

HS30 00420



Based on the engine bay photo, I am going to assume this car was originally Kalahari Tan 918 in colour.
Engine Number: L24 024470

Link to album here.

HS30 00424 - Numbers matching car. Car at bottom of photo. Car on hoist is a 73 240z


HS30 00501



HS30 00517


Found in a farmers shed, photos here.
Owned by member dalee

HS30 00521 - Currently owned by 24 Dat
See also post #86



HS30 00535
For sale thread here.
HS30 00536

Original Colour: 918 Kalahari Tan
Post here.
Owner: Zed74

HS30 00561 - Bannockburn Victoria
Engine No. L24-030016
Compliance date: April 1971
For sale thread here.

HS30 00570 - Queensland



This car was somewhat infamous on the Australian S30z scene back in the early 2000s.
An old archive of the car's build can be found here.
Now L28 Turbo powered. Full album here.
Featured on Autospeed.com.au also.
Member: Zbuild. (see thread).
Australian Compliance is around May 1971. Approx. build date February 1971.

HS30 00575 - Last seen on gumtree


Link to album: https://picasaweb.google.com/107400787026175995661/HS3000575?authuser=0&feat=directlink

HS30 00595



Bought from Victoria.
Originally 918 orange but was resprayed black before i bought it, one day will be 918 orange again.

Original L24 was draw through carbie turbo, was a pig to drive. Replaced with an RB20det
Has MK63 front brakes, fibre glass guards and bonnet, roll bar and R200 lsd, tokico shocks and springs, FMIC and a few other bits and pieces.

Refer to post here.

HS30 00596


Colour: 918 Orange.
Engine No. L24 027546
Car has a new life in the UK.
Link to intro thread.
For sale thread.
Previous for sale thread.
Link to album.

HS30 00601 - NSW


Colour: 918 Kalahari Tan
Owner member name: import monky
Currently undergoing restoration.

HS30 00605


Colour: 918 Orange (Kalahari Tan)
Engine No: L24-027547
Previous for sale thread.
Previous owner JIM71Z (James Flett MIA Engines in DeeWhy NSW).

HS30 00614



Awaiting it's turn for restoration at Zshop.

HS30 00626 - Undergoing restoration.

HS30 00655
918 Kalahari Tan



Queensland registration.

HS30 00672


Colour: 907 Green
Link to for sale thread #1
Link to for sale thread #2
Youtube Video on Track.

HS30 00675 - CarSales.com.au - sold within 48 hours. August 2015.


Link to album: https://picasaweb.google.com/107400787026175995661/HS3000675?authuser=0&feat=directlink

HS30 00682 - South Australia


Link to for sale thread.
RB Engine swap.

HS30 00683 - Victoria



The brown hornet build thread.
Link to full album.

HS30 00695 - NSW


Engine No. L24 031239
Paint Code: 918 Kalahari Tan
Interior: Black
Previous reg was: AZ82CF
Now resides at Gosford Museum.
Previously Phil from Edward Lees car. (More about Phil)
Full Album here.

HS30 00700 - New South Wales


Link to for sale thread.
Appears to be an original Canberra car.

HS30 00741 - Likely no longer exists.
Engine Number: Engine No.: L24 031211
Colour: 918 Kalahari Tan
Refer to post here.
Member on Classiczcars.com: JackWarnock

There won't be many stories like this to be told because it just doesn't happen. I bought my first 240Z in August, 1971 (HS30 00741). I had to sell it in 1976 unfortunately. Several years ago I wanted to revisit that 240Z experience of so many years ago. The first thing I did was to check on the registration (NSW Australia) of the car. I found that the original registration of the 1971 car was "available" - meaning that my original car was probably beer cans.

The original registration was BBQ-240. I reserved it right there and it is now the only connection with my current 1973 Fairlady 240Z (HS30 103407)purchased in 2003.

The 1973 Fairlady 240Z-L mentioned in the quote above was recently sold on CarSales.com.au - See post.

HS30 00745 - Gumtree recently.


Link to album: https://picasaweb.google.com/107400787026175995661/HS3000745?authuser=0&authkey=Gv1sRgCPyj59bold6rLA&feat=directlink

HS30 00803


Previous for sale thread.

HS30 00819
Owner: Ackent1
Car is currently undergoing restoration.
See post here.



HS30 00836



Current owner: Satrat Z

HS30 00838 - Adelaide


Previous for sale thread here.
Compliance Date: Nov 1971
Video link here.
HS30 00859 - Last spotted Cundletown NSW
http://www.justauto.com.au/justcars/cars-for-sale/1971-DATSUN-240Z-SPORTS-JCM3643017



Now being restored by member 240z_au here.

HS30 00862


Project thread.
Full album here.
Colour: 112 Lime Green / Yellow.

HS30 00868


Album Link: https://picasaweb.google.com/lh/photo/_PiKQeE4oVr9EkRBmTWuLWV8itHZ13lHNDn_PlPgOwI?feat=directlink

Current owner spotted car in a holding yard in 1998 for abandoned cars which was collected by the local council. Inquired how he could purchase the car and I was told to apply to the local council to buy it. Managed to buy a complete matching numbers car for $200(the cost of the tow fee). This car since 11/2014 has been at a restoration shop for a complete panel and paint job to the same standard of chassis 254.

HS30 00879 - UK
Also known as TKS33 SA 3640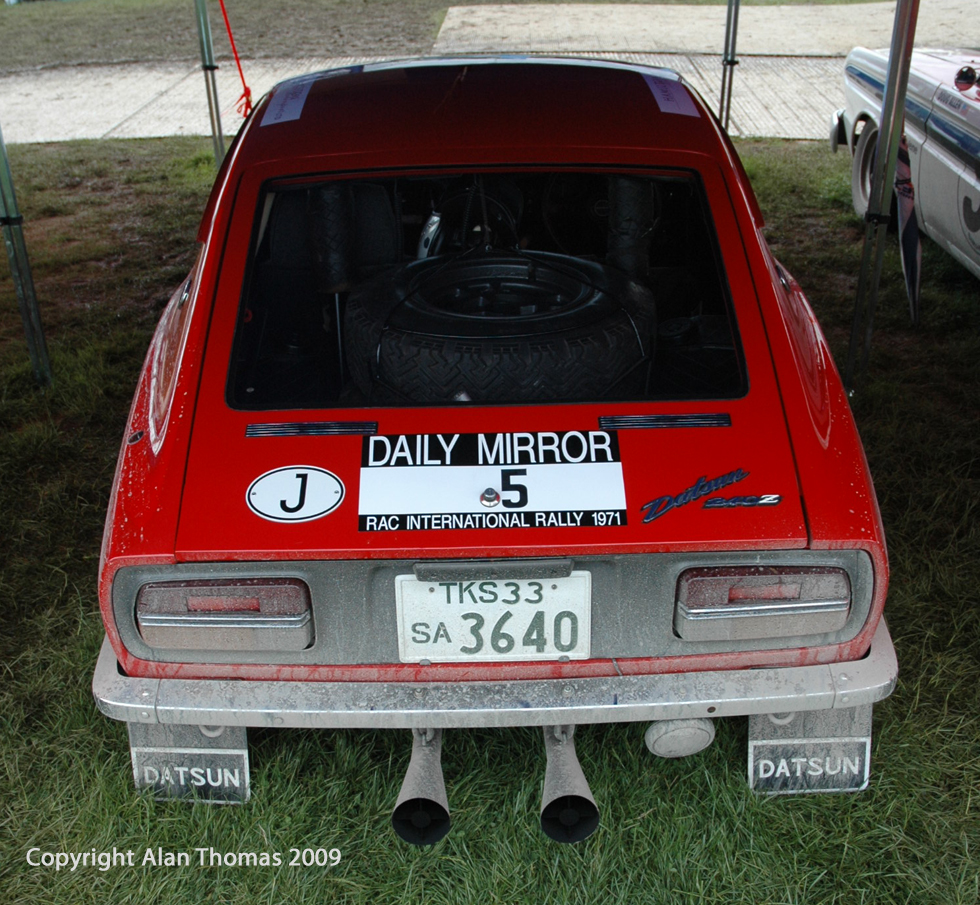 Kevin Bristow's ex-Works 1971 Datsun 240Z rally car, the car is based on a PZR chassis (PS30-SB or 432-R) so is light weight in non structural areas and stronger in structural places.

Engine No: L24 039427 (with E30 cylinder head - note not an E31 or E88 head).
Read more here.
Octane Magazine Article here.

HS30 00894


Album: 240z71's 240z 2 images 0 comments




HS30 00908


Compliance date: July 1971
Link to for sale thread.
Link to full album.
RB20DET conversion.

HS30 00918


Colour: 907 Green.
Thread here.
Full album.

HS30 00954
Colour: 920 Safari Gold.



Currently undergoing restoration, located in rural Victoria with a collector who has a couple of other S30z's.

HS30 00958
Original Colour: 919 yellow


Full album here.
Current motor: L28 303202
Compliance: 08/1971
Vehicle details obtained via Vicroads registration search.
Advertised on gumtree recently. See here.

HS30 00982


Engine Number: L24-045825
Build thread here.
Colours: White exterior with blue interior (very rare combo for the Australian market).
Located in Western Australia.
Owned by member RB26DETT

HS30 01001



Project thread here.
Owner: zzzzed
Previous owner: thriller.

HS30 01024

Customer at Zshop.
Link to album.
This vehicle still has the hand throttle and early console. Is this the highest number car (71 model) still with these features?

HS30 01179 - Dead...
See post here.

HS30 01254


Full Album Link

HS30 01310


Engine No. Original matching numbers.
Full album link.
eBay description.
Compliance date: 10/71
HS30 01428



Full album link

Previously listed on Gumtree here.

Original colour: 918 Kalahari Tan
Original Engine No: L24 - 055813
Currently has L28 fitted.

HS30 01694 - New Zealand.
Member: Merlin on Zclub.nz
I have a 240z over here imported from Au in 1972 Number HS30 01640. It was made in Sept 71

It does not have the "cruise control feature" so it must have just missed out. It is a matching numbers car and was met brown with the butterscotch colour interior. It was totally stripped down to the bare shell and had no expense spared, every last nut and bolt resto done over 3.5 years. It would have been cheaper to buy a Porsche/Ferrari. It had a CB radio installed in it in Oz as that seemed to be a trend in the 70s and it had huge sun visors that looked like blocks of wood. It looks nothing like it did when I got it so it is now a very different car. I have not done any mods that can't be taken back to original except for the paint colour. It is a manual 5spd. It is fitted with the later style console with only the single choke lever.
To keep the
Cars For Sale (3rd Party Sites) Ebay, Carsales etc..
thread separate to the global market I've created this new thread.
To kick things off an interesting car for sale is this 280z.
http://www.datsunclassifieds.com/autos/datsun/280z/never-licensed-1976-280-z-1976-100-000.00-4333.html
Asking 100K - never registered car.
NEVER LICENSED 1976 280 Z, 1976, $ 100,000.00
80 Z car bought from dealer 1976 and has never been licensed. Driven 36 miles and then parked for, Yes 38 years and still smells new. 354 total miles. Not sure what to ask for this car taking all offers. Feel free to call me at your convenience, thank you for your interest. Dean 909-257-6551

Hi guys just wondering what one is worth?

Justin
Hi guys I thought it was about time I posted my story or build thread. Actually it's more of a continuous improvement plan than a build or resto.
Anyhoo, I got my Fairlady back in 2001 for six grand, this was at a time when they still produced the trading post on paper and many a zed was to be found inside the pages
Oh how times have changed!

It's plated as a November 73 model, was mostly original with a three speed auto and had been stored by the owner for his daughter but she didn't want an old car so turned her nose up at it.... Jackpot me


Mods since I've had it include, Manual conversion, L28 P90 F54 block with 72 deg cam, BMW 8 inch balancer, six 42mm kehin vp carbs on 40mm custom manifold, extractors into twin megaphone exhaust, Scorcher elec dizzy, Aluminium rad with twin thermos, 260 5spd, SWM lightened flywheel and heavy duty clutch, R180 4.1 Torsen LSD, gear reduction starter, Coil overs with KYB inserts, R31 rear and hilux front brakes, braided lines all round, offset bump steer spacers, offset delrin control arm bushes, JDM chrome headlight covers, factory 'compe' steering wheel, calander clock, cobra race seats, six point roll cage with side intrusion bars, Konig Rewinds 16x8 with bridgestone re55s all round. Oh... and push button start, thanks to Dimitri's tutorial!

I was hoping to post some pics of it freshly painted but after battling with the panel beater since march and having it left there for six weeks without any work I have decided to remove it from there shop and go elsewhere
So old ones will have to do for now





Attached Thumbnails
Gday guys
As the title suggest I have a manual brake and clutch pedal to suit a 240 and 260z
Comes with a near new clutch master cylinder aswell, only used for a small amount of time
Bought these to fit to do a manual conversion on my 260z when I had the rb25 in there but since I have done a Barra conversion and is auto I don't need them anymore
I cannot find my auto pedal anywhere( may have chucked it out by accident) so if the buyer has a auto pedal we can work out a deal
Can post Australia wide no worries at buyers expense
$200
Hey Guys

Just wanted to see what people's thoughts are on the current and future market value of L24 engines. Contemplating selling my L24 as I have a L28 but not in any rush.

Cheers
Hello,
I am after a 55mm OD left front strut for a 1975 260Z.
The complete unit with stub axle.
In original undamaged condition.
If someone has both left and right I would be happy to purchase both.
Thanks.
Hi all,
I Have some high strength steel im making some of my own chassis rails in the engine bay, (finish where the floor rail covers it near the TC rod Bracket, bottom of firewall)
from firewall to rad support, direct factory replacements from slightly heavier gauge steel, and still of high strength.
these units have all the holes say a 240z and earlier 260z 2 seater have, including holes for the splash tray, sway bar, tow hooks and engine cross member.
these will require the skills of a panelbeater or LURCH to install, but are made for the utmost purist, as they have been designed with originality in mind, not like some others available from USA.

I only have pics of my preliminary rails thus far, more pics will be up in the next week or so, will keep posted, but for now, see attached,
also note they include the tappered down area near the radiator as per stock rails, remember these are to try and be as close to std spec as possible,
also includes original JIG/tooling holes for measurment and positioning.
pricing is solely dependant on demand, if I make 5 lh and 5 rh then dont expect any more, unless tabco want to buy/distrubute them.....
These rails DO require the re-use of?
- existing TC/Castor rod brackets
- Floor rails unless you need these too.
- inner skirt & strut tower (inner wheel fender/guard)

I am/will be using these on my car/s, for race / events etc, and since wittnessing the stock rails support, is mandatory as far as i see,
these will be manufactured using CNC equipment and every rail WILL be the same.
any Q's
please ask, but dont bother me with a stack of questions if you do not intend to buy or are genuinley not interested.
apologies for those whom are inquisitive by nature,
only offering these, as I NEED them myself, only fair to see if I can help out others.
Now please also consider that this Higher strength steel is expensive, so youre not buying cheap off the shelf folded section with no strength.
Have material certs available if you are interested.

nat0 Attached Thumbnails